NC Principal Fellows Alumni Coalition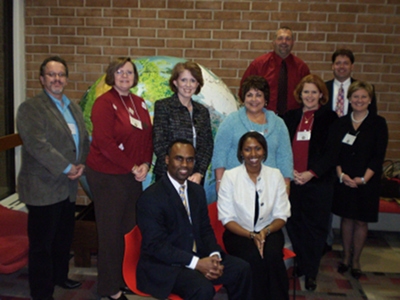 Top Row – Jarvis Ellis (Class 10), Dr. Patrick Miller (Class 10); Middle Row – Shawn Sinclair-Slakk (Class 10), Pamela Breedlove (Class 3), Stephanie Rivers (Class 11), Beatrize Jones (Class 1), Melissa Costin (Class 12), Karen Wood (Class 10); Bottom Row – Robert Dotson (Class 12), Chikilah Hill (Class 15)
Principal Fellows Alumni Coalition Founding Committee
Throughout the history of the Principal Fellows Program, the need has been expressed to form an official alumni group. Pursuant to this, a meeting was held on January 6, 2009, at NCSU, of interested Principal Fellows alumni to discuss the merits of the formation of an alumni group. The group decided to establish the Principal Fellows Alumni Coalition (PFAC). Beatrize "Bee" Jones (Class 1) was elected as President , and Melissa Costin (Class 12) was elected as Secretary. Chikilah Hill (Class 15) was elected as the current Fellow representative to the Coalition, and Dr. Patrick Miller (Class 10) was elected as alumni ambassador to the Principal Fellows Commission. Many exciting ideas were exchanged as to possibilities for the Coalition. Please take advantage of every opportunity to get involved in the work of the Coalition.
Principal Fellows Achievements
Principal Fellow alumni are very active in leadership positions across the state and around the nation.  After completing the rigorous MSA program, along with the extra training provided through the Principal Fellows Program, Principal Fellow alumni are well prepared to serve schools. Alumni are often recognized for outstanding achievement, either for themselves, their schools, or their school systems.  Please click below for a sampling of outstanding activities by Principal Fellows alumni.